Hot Crews, Inc., is a refractory contractor providing refractory sales and service to Indiana, Michigan, Ohio, and the Midwest.

We

can

provide turn-key installations, refractory maintenance, rebuilds and retrofits, dry-outs, tear-outs, demolition, precast custom shapes, and bake-out for precast items, shotcrete, and gunite. We also supply refractory materials, high-temperature flooring for molten metal spills (concrete replacement), furnace evaluations, and heat/thermal gradient transfers.

In addition to our refractory services, we also stock an assortment of refractory materials including ceramic fiber from 4-10 lb. in density, castables, silicon carbide in several forms including brick and castable, plastics, brick, and stainless steel anchors.


Hot Crews

Address:
Fort Wayne, IN 46809-9722
Phone: (260) 420-2739
Fax: (260) 423-6173
Toll Free: (800) 852-1371
We are located at 4419 Ardmore Avenue in Fort Wayne, Indiana. Get directions to our plant.
For any questions and concerns, please give us a call at (800) 852-1371, or fill out our contact form.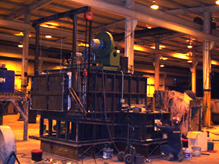 We supply materials from top manufacturers including Allied Mineral Products, Inc, ™, BNZ Materials ™, Minteq ™, Vesuvius ™, Louisville FireBrick ™, Thermal Ceramics ™, Resco ™, and Missouri Refractories ™.
With our Brokk tear-out machine, Kobelco excavator, and Bobcat, we have the right equipment for furnace relining, demolition, rebuilds and retrofits, and tear-outs.
At Hot Crews, we take safety very seriously. From the initial planning until project completion, safety is a major factor in everything we do and think about. Because we abide by the regulations set by the Occupational Safety and

H

ealth Administration (OSHA) and the Mine Safety annd Health Administration (MSHA) , we go above and beyond in ensuring worker safety. Contact us today for more information or to discuss the details of your next project.