Hot Crews

Address:
Fort Wayne, IN 46809-9722
Phone: (260) 420-2739
Fax: (260) 423-6173
Toll Free: (800) 852-1371
We are located at 4419 Ardmore Avenue in Fort Wayne, Indiana. Get directions to our plant.
For any questions and concerns, please give us a call at (800) 852-1371, or fill out our contact form.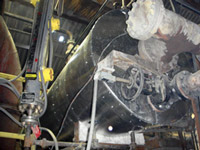 Contact us today for more information or to discuss the details of your next project.


Services We Provide:
Turnkey Refractory Installations Maintenance

Demolition

Dry-outs

Tear-outs

Pre-cast Custom Shapes

Shotcrete and Gunite

Bake-out for Pre-cast Items

High-Temperature Flooring for Molten Metal Spills (Concrete

Replacement)

Furnace Evaluations and Heat / Thermal Gradient Transfers